Helicopter Safety Alliance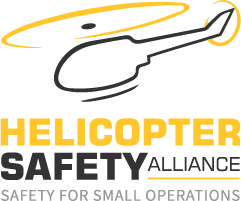 Tired of our industry's "same accident, different day" routine? Sure, but what's the alternative? Improving your safety game can be a challenge, especially as you work each day to keep the lights on and the aircraft flying.
The Helicopter Safety Alliance (HSA) offers small helicopter operators the opportunity to have "big-time" safety at an affordable price. The Alliance's safety program, based on modern, data-driven risk mitigation strategies, will make a difference in operational safety, freeing operators to focus on running their businesses.
The Alliance will begin by holding free helicopter-specific safety seminars for small operations around the country. Maintenance technicians, pilots, and management — each group can attend an HSA Safety Stand-Down at no cost to learn safety information targeted to their role.
In the coming months, we will roll out a membership program specifically aimed at reducing risk in small helicopter operations — a population that we believe has been underserved in safety. For many small operators, there's not enough hours in the day to do everything that needs to be done — and they also lack the depth on the bench.
HSA provides a robust safety program based on SMS principles. And we know that the best safety tools aren't the most expensive or most complicated — simple and effective works just fine. We also provide Alliance members with the third-party anonymity necessary for an effective hazard reporting system. And together, we can do it all at a lower cost.
We are here to help small operators be as safe as the big guys. We are the Helicopter Safety Alliance.
If you would like to hear HSA news and announcements, please use the link on the Contact Us page to sign up.